Summer is finally here, and Toronto is ready to celebrate. Along with sunshine, warm days, and trips for ice cream, this season has brought something else exciting: a growing list of beautiful homes for sale.
Read below to see how the GTA market is finding a new balance, how buyers are being presented with more negotiating power, and how housing demand continues to rise.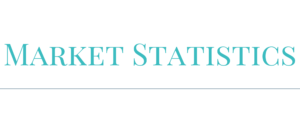 GTA housing market conditions continued to evolve in response to higher borrowing costs. Similar to April results, May 2022 sales were down on a monthly and annual basis. Conversely, active listings at the end of May were up on a month-over-month and year-over-year basis. More balanced market conditions have provided buyers with more negotiating power. As a result, while benchmark and average home prices were up substantially compared to last year, selling prices trended lower on a month-over-month basis.
"Bank of Canada rate hikes, including the 50-basis point hike on June 1, are impacting home buyers in the short term. There is now a psychological aspect where potential buyers are waiting for a bottom in price. This will likely continue through the summer. However, as home buyers adjust to higher borrowing costs, housing demand will be supported by extremely low unemployment, high job vacancies, rising incomes and record immigration," said TRREB President Kevin Crigger.

 Read more about shifting mortgage rates here.
"Price trends observed over the past three months – both in terms of moderating annual growth rates and the recent month-over-month dips – are in line with TRREB's forecast for 2022. After a strong start to the year, the current rate tightening cycle has changed market dynamics, with many potential home buyers putting their purchase on hold. This has led to more balance in the market, providing buyers with more negotiating power," said TRREB Chief Market Analyst Jason Mercer.
Information gathered via TREBB Market Watch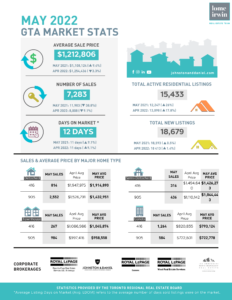 Lome Irwin May 22 – GTA Market Stats infographic